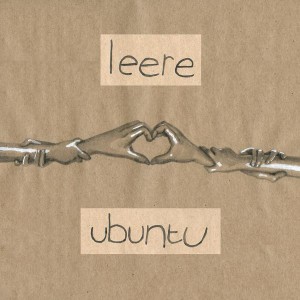 Ubuntu – The new single by Leere from their album Ever Being on Lark Lane
Out Now on Stuck Records

Purchase on iTunes, Amazon and more! Please shop around for the best price.
Artwork by the highly talented Britta Jarvis
Derby collective Leere released their new single 'Ubuntu' on Monday 22nd July, out now on Stuck Records. It will be the last song released from their album 'Ever Being On Lark Lane' which featured on BBC Radio Merseyside's 'Folkscene' at the end of last year.
The word 'Ubuntu' comes from the African Xhosa tradition which conveys the idea that human life is interconnected and only strengthened through genuine relationship, through an understanding of the true potential of community and the real worth of others. Lead singer and songwriter Simon Monaghan states that "The song is meant to be a lighter take on the concept of 'Ubuntu', encouraging an openness and dialogue with those we may encounter on our daily…and life journey"
The decision to release 'Ubuntu' at this time is in part a message for our communities to stay strong in the face of divisive times. "Nelson Mandela is one of the last great champions for human rights and as our thoughts are with him and his family, it's also important to remember all that he stood for at a time when fear threatens to pull things apart. In these days of dominant social media and the spread of ideas it is perhaps both more difficult and more necessary than ever to seek out genuine common ground with other people" says Simon Monaghan. When facing the death penalty at the Rivonia Trial in 1964, Nelson Mandela said to the court:
"I have fought against white domination, and I have fought against black domination. I have cherished the ideal of a democratic and a free society in which all persons live together in harmony and with equal opportunities. It is an ideal which I hope to live for and to achieve. But if needs be, it is an ideal for which I am prepared to die."-Nelson Mandela

Leere will be playing a small tour of intimate venues in August and September in support of 'Ubuntu' and their forthcoming album which will be released before the end of 2013. The new album takes its influence from the novel 'The Particular Sadness of Lemon Cake' by Aimee Bender.
You can keep up to date with Leere by visiting their facebook page: www.facebook.com/leerecollective or  their website: www.leere.co.uk