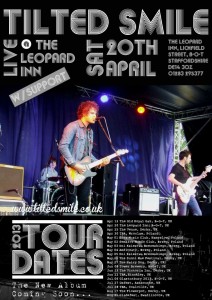 Another party by Piggyback Studios, Sat 20th April, Live at The Leopard:
"Tilted Smile" + "Radio Masquerade"
This will be the last gig for Tilted Smile in Burton before they head off for their tour of Poland. Support includes an acoustic set from "Radio Masquerade" who've been playing some blinding gigs in Burton and Derby over the last 6-months. DJ Jonnie M will follow the bands and keep you all dancing until you're too drunk to stand. Bang-on!
FREE Entry, Sat 20th April, 8pm-Late
The Leopard Inn, Burton-on-Trent, DE14 3QZ
Join the Facebook event here